Riverview Library patrons can borrow eMaterials by accessing:
---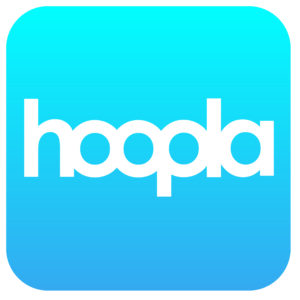 hoopla digital offers patrons over 1,000,000 eMaterials that can be downloaded from anywhere anytime. Library patrons are allotted 10 downloads per month and can download the hoopla app in any app store to use hoopla on a smart device.
Click the hoopla logo above to begin your search.
Find the Riverview Veterans Memorial Library in the list of active libraries and click on the name
You will be asked to enter a library card number and pin. The pin number is the same pin used for library account. It is the last four numbers of your phone number or 9999. If neither of these works, please call us at 734-283-1250 during our hours of operation for assistance.
You will then need to provide an email and password for your new hoopla account.
Once you are logged in, you are able to download items to your computer or smart devices.
---
Use our online catalog to find digital content 
The Riverview Library subscribes to OverDrive–a service that provides free eBooks & audiobooks to our patrons. Patrons can browse and borrow digital content 24/7 through our library catalog.
Click The Library Network logo above to begin your search.
Filter for only 'eBooks' on the left side under 'format'
Change locations to show only 'Riverview Veterans Memorial Library'
When you have found the item you wish to borrow, click on the 'download' button. It will ask you to enter your card number and pin. Your pin is the last four digits of your phone number. If you have trouble, please contact us for help.
The item will download into your library account and you can access it now on your eReader/smart device.
---

Download & read books with a little help from Libby!
Libby is an app created by OverDrive as another way to access our digital library collection. Libby can be downloaded from an app store for free and can be used as an eBook reader as well.
Click the Libby logo above to get started.
Once you have downloaded the app, you will log in to your account using your library card number and pin.
Click the magnify glass to search for a specific title or browse through curated collections and suggestions.
When you have found the item you wish to borrow, click on the 'borrow' button if the item is currently available or the 'place a hold' button to be placed in line to receive the item when it becomes available. If you place a hold on a item, you will received notification when the item is accessible to you.
When an item is available you will be able to read or listen to your download inside the app.
---