Week of August 3
Hansel & Gretel
This week Mrs. K will read stories about Hansel & Gretel. You can follow along with Ms. Z to make your very own board game.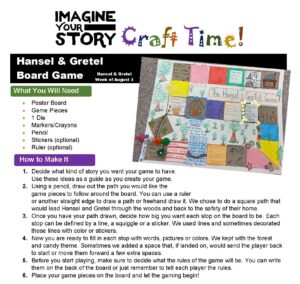 ---
Readers ages 0-11 can log minutes to earn fun prizes for their hard work all summer long!
The three top readers will be awarded a $20 gift card of their choice.
*Please register each reader. Only registrants will be eligible for prizes.
The program is simple:
Pick up a reading log during our June 22, 2020 curbside event or download the one below! Each time you have read 10 minutes, mark the circle with a sticker or a pencil mark.
Read a minimum of 8 hours & 20 mins: Earn a super awesome prize bag full of trinkets and treats.
Each sticker on your reading log counts as 10 minutes of reading time!
8 hours 20 minutes & beyond: Keep reading past 8 hours & 20 minutes to become one of the top three readers for the entire summer! The three readers who read the most minutes will win a gift certificate.
Prize bags can be collected at the August 10 & August 12 curbside event. 12-4 p.m.
Remember to register your reader. Only registered readers will be eligible to earn prizes.
---
---
---


TumbleBook has allowed our patrons free access to their book databases until August 31, 2020.
---
---