Date/Time: Monday, May 7, 7:00 pm
Reading Selection: He Said/She Said (2017)
by Erin Kelly

"A tour de force – a gripping, twisting, furiously clever read that asks all the right questions, and keeps you guessing until the very end. I loved it." –Ruth Ware, bestselling author of The Woman in Cabin 10.
From Erin Kelly, queen of the killer twist, He Said/She Said is a gripping tale of the lies we tell to save ourselves, the truths we cannot admit, and how far we will go to make others believe our side of the story.
In the summer of 1999, Kit and Laura travel to a festival in Cornwall to see a total eclipse of the sun. Kit is an eclipse chaser; Laura has never seen one before. Young and in love, they are certain this will be the first of many they'll share.
But in the hushed moments after the shadow passes, Laura interrupts a man and a woman. She knows that she saw something terrible. The man denies it. It is her word against his.
The victim seems grateful. Months later, she turns up on their doorstep like a lonely stray. But as her gratitude takes a twisted turn, Laura begins to wonder―did she trust the wrong person?
15 years later, Kit and Laura married are living under new names and completely off the digital grid: no Facebook, only rudimentary cell phones, not in any directories. But as the truth catches up to them, they realize they can no longer keep the past in the past.
From Erin Kelly, queen of the killer twist, He Said/She Said is a gripping tale of the lies we tell to save ourselves, the truths we cannot admit, and how far we will go to make others believe our side of the story.[Source: Amazon Books. Accessed April 19, 2018.]
The Guardian Review of He Said/She Said
In her review of He Said/She Said for The Guardian, Alison Flood described the book as "creepy, tangled and disturbing" – "Kelly's latest thriller, about a couple who witness a horrific act, will keep you guessing until the end."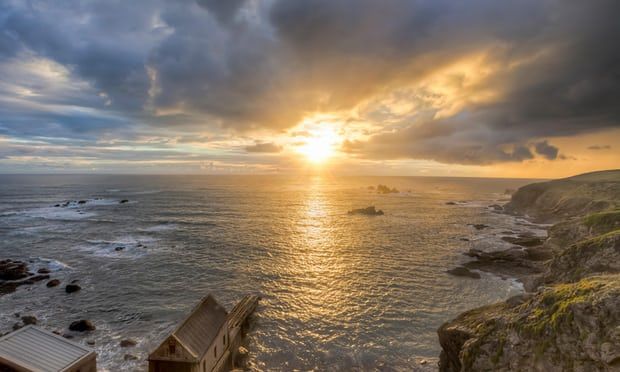 Lizard Point in Cornwall: the setting for the terror that unfolds in He Said, She Said.
Photograph: Alamy Stock
"It's going to be a classic he said/she said, textbook case decision by jury," says a reporter in Erin Kelly's new thriller. "Half the female jurors are already in love with him… It always sounds convincing until the defence cross-examine the victim and they shredded her."
Kelly's He Said/She Said hinges on the alleged rape of Beth Taylor, but the incident is described largely from the perspectives of Laura and Kit, a young couple who have travelled to Lizard Point in Cornwall to watch the 1999 total eclipse of the sun. Eclipses are Kit's passion, and this is the first he is sharing with Laura. But the experience pales beside what they encounter next: rounding a corner, Laura stumbles upon a couple having sex, the woman's face contorted, desperate with fear. They call the police and end up testifying as witnesses in court, a decision that, 16 years later, results in them living in fear, hiding their identities.
Kelly is the author of the bestselling thrillers The Poison Tree and The Burning Air. She steps it up a level with this creepy, tangled, disturbing tale. As well as splitting her story between Laura and Kit, the narrative also alternates between 1999 and 2015, a present where Laura is living with crippling anxiety, a secret she can't reveal to anyone, and continuing thoughts of Beth: "Beth is a trapdoor; one thought of her and I lose my footing and fall … I often wonder if she lives, like I do, with our history bubbling constantly in the background, spilling over only when an eclipse is coming."
We have the tension of 1999, as details of what really happened at Lizard Point emerge, and more in the present, as Kit sets off alone to watch an eclipse in the Faroe Islands, leaving a heavily pregnant Laura in their London home, Googling obsessively and spiraling into panic. "I look for FAROES ECLIPSE STABBED TOURIST CRAZED WOMAN DIES KILLED CHRISTOPHER MCCALL BETH TAYLOR," Laura says.
Kit ramps up the sense of impending doom. "In the moments when I allow myself to think about the past, which is not often … it seems that life since the Lizard has been lived as though under a malfunctioning neon light. A subtle but constant vibrating strobe that you learn to live with, even though you know that one day it will trigger some kind of seizure or aneurysm."
Kelly is on fine form here, great on the start of Kit and Laura's relationship, compelling on eclipses from Cornwall ("A wall of night pressed in towards us from the Atlantic, a black veil being dragged across the sky") to Zambia ("The moon was a black disc covering the sun and streamers of plasma flared out, like a gas ring being ignited"). Kit and Laura's eloquent, intelligent voices are a little difficult to distinguish from each other at times. But Kelly is a master at drip-feeding us the details, keeping us guessing about the truth, and the many shades of grey it contains, right until the end. [Source: The Guardian:  Review by Alison Flood on Tuesday, April 18, 2017 Apr 2017.  Last modified on Wednesday, March 21, 2018. Date accessed: April 19, 2018.]
Additional Reviews can be found HERE.
Biography

Erin Kelly was born in London in 1976 and grew up in Essex. She read English at Warwick University and has been working as a freelance journalist since 1998, writing for newspapers including The Sunday Times, The Sunday Telegraph, the Daily Mail, the Express and The Mirror, and magazines including Red, Look, Psychologies, Marie Claire, Elle, and Glamour.
Kelly is the author of several acclaimed novels, including The Poison Tree, among others. Her genre is the psychological thriller. [Sources: Amazon.com, Wikipedia.org, and GoodReads.com Date accessed: April 23, 2018.]
Bibliography
Novels
He Said/She Said  (2017)
The Ties That Bind  (2014)
The Burning Air  (2013)
The Dark Rose  (2012)
The Poison Tree  (2011)
Novelization of a TV Series

Other References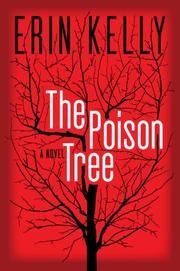 VIDEO:  Erin Kelly talks about THE POISON TREE
(click on book cover to view)
---
Return to Book Discussion Group Page
---